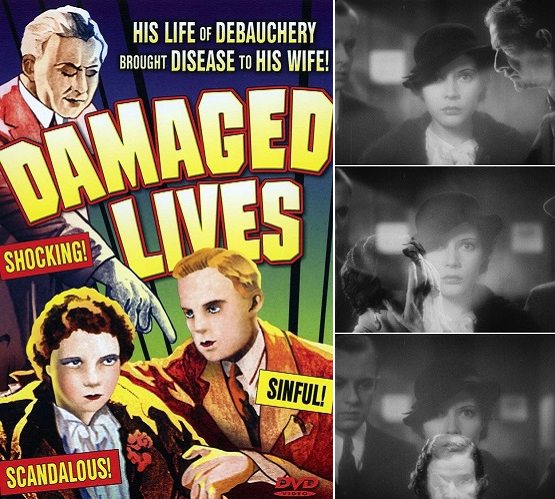 :: Damaged Lives (Edgar G. Ulmer, 1933) [ULCA Film & Television Archive]
When most people think of Canuxploitation films, they think of the grimy and trashy tax shelter era of the 1970s, but the history of Canadian exploitation cinema goes all the way back to much earlier filmmaking ventures. Following in the footsteps of independently produced American efforts of the era, Damaged Lives (1933) and Sins of the Fathers (1948) were unabashed sexploitation films that ostensibly presented themselves as dire warnings about important public health issues. Combining melodrama and medical information, these movies proved irresistible draws due to their frank discussions of the taboo topic of venereal disease (VD) but have since struggled to earn their place in Canadian film history for their controversial — and often distinctly Canadian — approach.
Although information about VD was often the subject of public health pamphlets and army training filmstrips, it wasn't until the silent era that the wider public was exposed to feature films intended to provide the frank details about the dangers of syphilis and gonorrhoea. Starting with Damaged Goods (1914), an adaptation of a then-popular stage play, a string of so-called "sex hygiene" films hit theatres throughout North America during World War I — often in gender-segregated screenings. Featuring cautionary narratives about lapses of judgement, hard lessons and tearfully postponed weddings, these early films were often praised for the way they offered important details about sexual health while also promoting strong moral values and temperance.
But those altruistic motives started to change once Hollywood adopted the Motion Picture Production Code in 1930. As big studios sought to contend with rules that forbade the depiction of controversial topics such as sex, prostitution, drug use, nudism and abortion, less reputable independent filmmakers were ready to meet the public demand for more salacious entertainment. Alongside exploitation films like Sinister Harvest (1930), This Nude World (1932) and Reefer Madness (1936), sex hygiene films also exploded in popularity, as productions like The Seventh Commandment (1932) and The Road to Ruin (1934) started to incorporate increasingly graphic medical footage that Hollywood wouldn't dare touch — from vaginal and surgical births to bodies and genitals ravaged with lesions and sores caused by VD. Producers publicly defended the inclusion of such shocking scenes as in the interest of public health, but they also guaranteed big box office — they knew that these films provided the only way that audiences could legally see full-frontal nudity on screen.


:: The Road to Ruin (Dorothy Davenport et Melville Shyer, 1934)
As one of the first true Canadian exploitation films, Damaged Lives may not be as daring or explicit as some of its American counterparts, but it was still an influential success on the sex hygiene circuit. The film was made at the behest of Dr. Gordon Bates, a Toronto-based physician who founded the Health League of Canada after seeing patients suffering from venereal disease in World War I. To educate Canadians, the council regularly screened The End of the Road (1919), a silent production intended for U.S. army personnel. In order to secure a more contemporary film to replace it, Bates approached J.J. Allen, the former head of Canada's largest theatre chain, who was then distributing and exhibiting Columbia Pictures' movies in Canada.
Recognizing the wider commercial potential of such a project, Allen conceived a $100,000 adaptation of Damaged Goods, and contacted Columbia Pictures for help, but the full extent of their participation in the project is not entirely clear. Damaged Lives was instead produced for a more modest $18,000 by an unknown company called Weldon Pictures Corporation, which some believe was set up by Max and Nathan Cohn, brothers of Columbia head Harry Cohn, in an attempt to distance the film from the studio. Once Bates approved the script, German director Edgar G. Ulmer — later to become a cult icon for his poverty row noir thrillers like Detour (1945) — was brought in to direct a three-week shoot.
Running shy of an hour, Damaged Lives portrays the story of Donny, the son of a wealthy shipping magnate who appears to have his whole life ahead of him. He will soon inherit the family business and his girlfriend Joan wants to get married and have a baby. But one fateful day, while entertaining a business client, Donny is taken on a whirlwind tour of sleazy jazz clubs and gambling dens. When the client heads into a brothel, Donny manages to make excuses and wriggle out of that situation, only to end the evening in the supple arms of Elise, the client's amorous date. The next day, wracked with guilt, Donny agrees to marry Joan, and they speed off to tie the knot. But Donny suddenly receives a hysterical phone call from Elise, who tells him she's contracted syphilis from her own boyfriend ("There's something terribly wrong with Nat... and now I've got it! And for all I know, I've passed it on to you... you and your little wife!").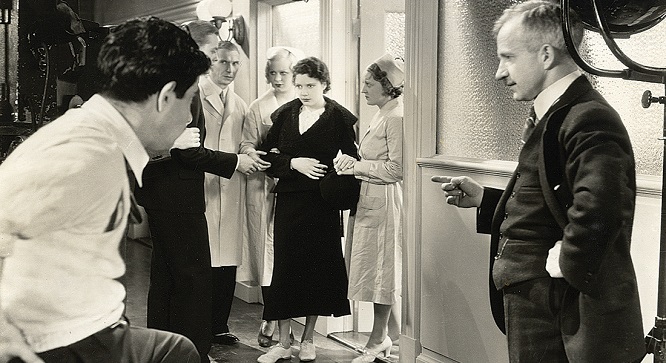 :: Damaged Lives [ULCA Film & Television Archive]
As with many American sex hygiene films of the 1930s, Damaged Lives incorporates scenes of previously shot medical footage to make its point, including physical deformities caused by VD. Sometimes these types of scenes were crudely edited in with narrated cut-aways or by having the main character view a filmstrip, but Ulmer uses a far more interesting approach here. When pregnant Joan learns she also has syphilis, Donny is summoned to the doctor's office where he is taken on a tour of a hospital ward. Each time the doctor opens a door, the film cuts away to medical footage, including a man with a rash on his leg and a wheelchair-bound woman whom, the doctor explains, has six children who are blind and crippled because of syphilis. The doctor heartlessly explains many of these people simply got what they deserved due to moral laxity. Upon returning home, Joan tries to kill both herself and her husband until Donny explains that a regimen of pills should solve their woes.
In placing more emphasis on the dramatic portion of the story, Damaged Lives is fairly demure compared to popular American entries that soon followed, like The Wages of Sin (1938), Sex Madness (1938) and, perhaps the most notorious sex hygiene success, Kroger Babb's Mom and Dad (1945), which is said to have grossed more than US$100 million. And yet Damaged Lives did have one notable influence on the genre — its earliest screenings were sometimes capped off with a 20-minute filmed medical lecture on the dangers of VD by Dr. Bates himself, which later became a staple of the genre.
Still, the film's less sensational content didn't prevent it from being swept up in a censorship battle over the perceived vulgarity and exploitive nature of these early "educational" reels. Premiering in May 1933 in Toronto, Damaged Lives was proudly touted as the first Canadian picture to be produced in Hollywood, but quickly ran into trouble with local censors. It wasn't until 1937, when New York City overturned its ban on the film, that it went on to a long life — and a big box office — on the American exhibition circuit. As with other roadshow exploitation films of the era, Ulmer's early feature was screened for almost two decades under a variety of names (such as The Shocking Truth).
It was in the wake of Damaged Lives' success that Canadians began their first serious attempts at fostering a homegrown cinema. Established in 1939, the National Film Board of Canada (NFB) sought to create short documentary films that depicted different aspects of Canada for Canadians. At this early stage, the NFB's focus was largely on World War II propaganda films, alongside travelogues and ground-breaking animation works by artists including Norman McLaren. In peacetime, however, the NFB increasingly focused on social documentaries, such as The Challenge of Housing (1946) and The Feeling of Rejection (1947), and even touched on traditional exploitation topics like narcotics — the Board's 1948 film Drug Addict was banned in the United States for suggesting that addiction was a disease rather than a personal failing. It was also around this time that The Royal Canadian Air Force's Medical Branch produced two colour VD training filmstrips for recruits — It's Up to You (1943) was shown to men, while For Your Information (1944) was intended for female viewers. A few years later, the NFB finally dipped into the topic with its own gender-specific sex hygiene entries — Very Dangerous (1945) for men and Sixteen to Twenty-Six (1945) for women.
Canada eventually produced another feature-length contribution to the sex hygiene genre. Shot in Quebec, the 1948 film Sins of the Fathers was a fully homegrown effort from Larry Cromien, one of the era's biggest film industry players. Likely inspired by the incredible state-side success of Mom and Dad, Sins of the Fathers was an independent production that proved even more controversial than Damaged Lives on release.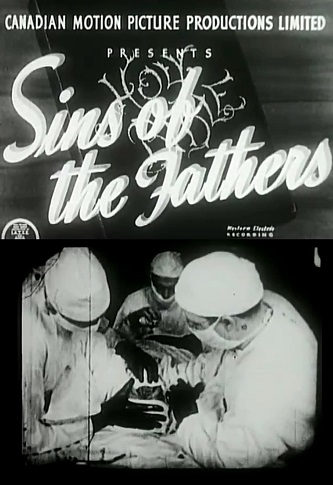 In the film, a young physician, Dr. Edwards (Austin Willis), intends to fight the scourge of syphilis by organizing a Health League and stamping out places of ill repute, but can't make headway against the town council, which includes influential nightclub owner Mr. Curran (Georges Toupin). Though Edwards gathers some support from locals, including the clergy, it's not enough to get his proposed measures approved, including having employers require blood tests to uncover additional infections. Things change when the town mayor's son Charlie (Frank Heron) visits Curran's club and attracts the eye of the businessman's daughter Patsy (Joy Lafleur). After they spend the night together at a Laurentides cottage, Charlie discovers he might be infected and confides in Dr. Edwards. The good doctor calls the careless lovers into his office, as well as their politically connected dads, and shows them all an instructional filmstrip on the horrors of syphilis. Shocked, Curran and the mayor agree to reverse their positions and support Dr. Edwards' health program. In a later town hall meeting, Curran even resigns, shamefully explaining that his opposition was the result of pressure from other disreputable business owners. Relieved to have finally succeeded, Dr. Edwards decides to marry his girlfriend Ellen (Mary Barclay), while Charlie — having confessed his dalliance to his fiancée Leona (Suzanne Avon) — must delay their impending nuptials until his syphilis is fully cured.
As feature filmmaking in Canada was still relatively uncommon until the late 1950s, Sins of the Fathers earned a place as one of the most lucrative and proactive Canadian films of the immediate post-war period. This mid-century effort was shot at Quebec Productions, an upstart studio located in Saint-Hyacinthe, just east of Montreal and run by ex-radio producer Paul L'Anglais and financier René Germain. Quebec Productions had just mounted an ambitious film noir production that it shot simultaneously in both English and French-language versions (as Whispering City and La Forteresse [1947]). Unfortunately, the films didn't do as well as anticipated and Quebec Productions tried to recoup costs by leasing out their facilities to a few English-language films, including Sins of the Fathers.
Producer Larry Cromien's Canadian Motion Picture Productions had just finished working on the Northern Ontario-shot airplane melodrama Bush Pilot (1947) when he began work on this new project. Sins of the Fathers was shot over 11 days in early February 1947 for a relatively small budget (figures range from $45,000 to $98,000) with the help of the Quebec Productions crew. American director Phil Rosen fell ill during production and was quickly replaced by Richard J. Jarvis, the editor of Whispering City.
Sins of the Fathers is not a particularly absorbing film, with most of the action playing out as dialogue in town hall meetings and office settings, captured flatly by mostly novice filmmakers. Featuring a story that seems like a thinly fictionalized biography of Health League of Canada head Dr. Bates, the film focuses mostly on the trials of Dr. Edwards as he tries to convince others of the need for public education and the treatment of VD while exposing the political corruption that keeps his crusade unfairly sidelined. All the potentially salacious medical material is confined to the film-within-a-film that Dr. Edwards runs in his office. Titled The Price of Ignorance, this is a fictional work that nevertheless combines bits and pieces from real VD shorts, including the amusing U.S. Public Health Services film Know for Sure (1941), the Royal Canadian Air Force's It's Up to You and clinical sequences of syphilis victims.
What's remarkable about Sins of the Fathers, especially compared to American sex hygiene films of the time, is its focus not on those whose lives are tragically transformed by VD, but on the institutional figures trying to stamp out the scourge. It's a notably Canadian approach to the issue, more focused on the inner workings of bureaucracy and small-town political intrigue than the personal problems of the infected. As the hero, the stoic Dr. Edwards always maintains the moral high ground — early on, he and his girlfriend are visibly upset when they discover that a double date they're on is unchaperoned, and the closest he comes to a conflict is when he discovers the local business owners have encouraged unseemly insinuations about him in the newspaper gossip column. The emphasis is always on what's good for the community, with only a secondary story playing on audience fears of contracting such a disease — though in this case, Charlie is only forced to deal with awkward questions about his delayed wedding, since his girlfriend forgives him completely for his indiscretion.

:: Sins of The Fathers (Richard J. Jarvis et Phil Rosen, 1948)
As was common at the time, Sins of the Fathers played up its value as an important public health resource, even if that wasn't quite the case. In advance publicity, Cromien claimed that not only was the film endorsed by Canadian church groups and the Salvation Army, but that the Health League of Canada was a direct sponsor of his efforts. Despite these claims, Dr. Bates forcefully disputed his involvement, penning letters to newspapers to ensure that audiences knew that not only was he not involved in the film, but that he hadn't even seen it. Even if Cromien wasn't actually involved with the Health League of Canada, the controversy at least worked to keep his productionin the headlines as its premiere approached.
Despite the local newspaper coverage, Sins of the Fathers didn't do much business in Montreal's His Majesty's theatre where it played a brief run at the end of April 1947 (the screening also coincided with a city-wide anti-syphilitic campaign). However, the film was a huge hit in Toronto, where it played at the Royal Alexandra theatre for four weeks straight during the summer of 1947. Variety excitedly noted "four-block-long lineups" and capacity crowds for three gender-segregated showings per day — two for women and one for men. More interesting is Variety's report that the theatre had six registered nurses from St. John Ambulance in attendance for each performance due to fainting at the more salacious scenes — the publication reported that "some 30 to 50 are keeling over in their seats or wavering out to the upstairs or downstairs lobby" — even "250-pound males." [1] Some have speculated that the film's Toronto distributor spliced in additional medical footage to make a more explicit version of the film than screened in Montreal. It's not possible to say what might have been included in these additional scenes, since the most provocative segments in the only surviving print of the film are footage of a natural baby birth and doctors draining spinal fluid as part of a medical test. It's likely that this version was not the print shown in Toronto, since it is shorter than the 96-minute running time noted in some places and the film's precise history of censorship is unclear.
No doubt encouraged by Variety's write ups, the film's success directly prompted Ontario to create a special censor group (consisting of a doctor, an educator, and a lawyer) to specifically deal with sex hygiene films such as Sins of the Fathers and the perennially popular Mom and Dad, which was still doing booming business at Canadian theatres throughout the 1950s. Not surprisingly, the film's censorship problems didn't stop at the border. Picked up for U.S. distribution on the strength of its Toronto screenings, Sins of the Fathers was quickly condemned by the Catholic Legion of Decency, which led to banning in some states (the film was also banned by the British Board of Film Censors). In the United States, the ground-breaking Canadian film played until at least 1953, sometimes under the rather frank title Sex. As with Damaged Lives, screenings were sometimes accompanied by medical lecture footage, which also encouraged audiences to better understand the facts of life by purchasing a set of "exclusive" instructive sex books from the snack bar — a highly lucrative sideline for many sex hygiene film distributors looking to squeeze a few more dollars out of a captive audience.
While the earliest exploitation films were often lauded for the way they shone a light on topics usually only discussed behind closed doors, many of these influential efforts have since been left in the dark shadows of film history. While a handful of more infamous titles like Reefer Madness and Mom and Dad are still screened for their camp value, many more have been forgotten or simply lost. Sadly, the same is true for Damaged Lives and Sins of the Fathers. Although these productions were among the most popularly successful Canadian films of the first half of the 20th century, they have almost entirely been excluded from critical discussions of Canadian cinema. While these films are undeniably outdated in their presentation of sexual health information, they are nevertheless important milestones that helped shape the future of exploitation films. But more than that, these films showed that, despite our sometimes-stuffy reputation, Canadians weren't afraid to tackle sensational and controversial issues — a good omen for the future of Canadian genre cinema.
---
[1] "Canadian-Made Film About VD a Boxoffice Phenomenon in Toronto." Variety, vol. 171, no. 10, August 11, 1948, pg. 1.
*
Paul Corupe is a Canadian film historian and author based in Toronto. He founded the genre film website Canuxploitation.com in 1999.